Education and Literacy Grants for Non-Profit Organizations Focused on K-12 Development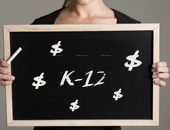 K-12 education starts molding vulnerable youth into pro-active and competent individuals of their community. K-12 education, as a frequently used expression in contracting Kindergarten (4-6 years old) through 12th grade (16-19 years old), begins and ends the free education policies in the United States, Australia, and Canada.
Since there is a shortage of schools catering to free education of kindergartens up to 12th graders, concerned non-profit organizations established educational programs to help K-12 students achieve high quality education without fear of tuition payments.
Start-up organizations focusing on K-12 education, however, struggle to employ partners that will continually support its programs and vision for its students. Non-profit organizations then apply for grants to financially sustain its programs and provide K-12 students with passionate instruction in different fields of human knowledge such as mathematics, arts, science and technology, and general education.
For non-profits that are looking for potential funders for their K-12 programs, here is a checklist of private foundations located all over the world that are specifically interested in spearheading K-12-geared developmental education:
The Eli and Edythe Broad Foundation – Simply known as The Broad Foundation, the foundation's mission is to transform urban K-12 education "through better governance, management, labor relations, and competition." The Foundation considers America's education as loathsome and disappointing, and the Foundation wants to invest on non-profit organizations catering to K-12 education. The Broad Foundation has over nearly $400 million, which will then be awarded to qualified non-profit organizations with a benchmark for improving the status of K-12 education in poverty-stricken urban and rural areas.
Web Site: http://www.broadeducation.org/
National Weather Association Grant for Teachers – Aside from K-12 students, there are a number of organizations that provide small financial support to K-12 teachers/educators. The National Weather Association Grant for Teachers (NWA) is one of them. NWA awards seven $750 grants to competitive proposals espousing the need to purchase and enhance materials and resources imperative for the academic growth of K-12 students.
Web Site: http://www.nwas.org/
The NEA Foundation – Although The NEA Foundation does not primarily focus its grant-making opportunities to K-12 education, the Foundation is open to revolutionary ideas and programs that will enhance and strengthen teaching and learning. The Foundation has awarded more than $7 million dollars to public school educators. A portion of the money may have also been allocated to support public K-12 instruction.
Web Site: http://www.neafoundation.org/
Digital Wish – Digital Wish strongly focuses in providing support for lesson plans that integrate strong K-12 instruction and development. Digital Wish accepts lesson plans that tackle any subject area and should at least be relevant in developing young and potent minds.
Web Site: http://www.digitalwish.com/