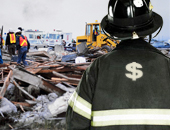 At present, perhaps due to the neglect of people, more and more abrupt events like storms, floods, forest fire, and cyclones are occurring. Indeed, they are inevitable and no one can control them. No one is able to predict what will happen either. It is also a sad fact that their effects linger longer with the affected country, state, or city even after months of the actual date it occurred.
After having survived the actual event, victims will have to face struggles as they begin to get back on the track. Wrecked houses, death of loved ones, and ruined shops and products are some of the most common trials they have to bear.  This stage would have been easy if victims did not lose more than half of their assets. With very little to nothing left to them, how could these victims move on from such awful event? Good to say, there are noble groups that offer disaster recovery grants to aid to these poor victims.
Organizations that Offer Disaster Recovery Grants and Loans
US Department of Housing and Urban Development (HUD)
HUD offers grants to help cities, counties, and states recover from disasters declared by the White House, mainly in poor areas. Congress may add apt funding for the Community Development Block Grant (CDBG) program to rebuild the damaged areas and give crucial seed money to start the healing process. For more info on this funding chance, visit this link.
U.S. Department of Homeland Security (DHS)
Provides disaster recovery grants to people living in a disaster declared areas. To know more about their programs, you can visit their web site or click the link to apply online.
Economic Development Administration (EDA)
Helps devise long-term tactics and carry out projects to help the regions stricken by certain severe storms and flooding. Requests are ongoing and processed as received. For more info on this funding chance, visit this link.
Federal Emergency Management Agency (FEMA)
Offers help to local, tribal, state, and nonprofits allowing them to respond to and recover from major disasters declared by the White House office. Visit their web site or click the link to check grant opportunities.
Aside from these, there are still more open disaster recovery grants from the civil and state sectors. Even when there are no public hazards, the grant money on these funding chances are open and easy to access. All you have to do is come up with a gripping grant proposal that will state your current status.