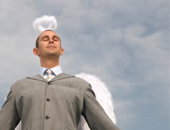 Everyone dreams of having a business. But having a good idea of which business type to put up is only a part of a long, tough process. Business owners hoping to expand their ventures and even budding entrepreneurs knew that the lack of money prevent them from pursuing their business goals.
While the government offers grant money, some of these funds are quite limited to certain areas—minorities, women-owned businesses, and for businesses focusing on innovation. But don't worry, though. Even if you may not qualify from any of the said requirements, you can always seek and find grants or some other form of help from "above."
Help from Heaven

Who are they and what do they do?
Angel investors (shortened here as AI) can help you with your financial woes. These people can provide the needed start-up money, specialization, and support that you might need in starting your venture. Though they may seem to come directly from heaven to aid you, having an AI do have some strings attached on them. They can help you make or break your business depending on how you are able to cope with their requirements and demands. Entrepreneurs hoping to jump start their own business see them as a key that will lead them out of their financial hardships. Budding businesses have a hard time attracting potential investors because they have yet to prove their ability in generating profit.
What else do they do?
Aside from receiving financial aid from AIs, they also guide business start-ups as a way of 'guarding' their investments. Though many perceive this as an interruption or hindrance in running their businesses their "own" way, this isn't half bad. Considering that angel investors have a wide range of experience and skills, you have their assurance that your business is going through the right path.
Cost of "Angels"

1. Equity
Though AIs are of great help for business start-ups, they require some percentage of equity in your business, usually 10 percent or more. They think that the amount of equity that they require from your business compensates the amount of risks that they are putting their investments into.
2. Requirements
Moreover, some investors also have requirements that business owners need to follow to ensure that their investments are not put to waste. They may even have some of their people work in your firm to ensure that skilled workers are there to perform crucial tasks, which you could not handle.
3. Loss of control
Having an AI can cause you to loss full control of your business. Usually, AIs may expect for certain amount of control in your business for their involvement.
Angels or not, it is always up to the entrepreneur and business owners whether they will have an AI in their company or not. It all depends on the perceived need of the company and of the business owner. But before making that big decision, it is still best to conduct some research so that you can make a sound and good choice. After all, not all angels come with wings and halos.
For sure, you can still find aid from other funding sources. Or you just need to get loans to fulfill your business goals.
Write Your Tool and Find Grants
Making a good business proposal is the surest way to convince funding sources of the worth of your venture. Hiring an expert writer is such a good option.
A professional grant writer knows which details to include to help you obtain the funds.