Non-Profit Grants: Resources for Jobless Military Veterans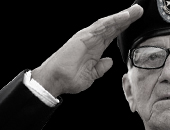 Maybe neglect is the most serious damage a former soldier can receive. It reflects when a soldier retires or ends his career. More often than not, the society can't give chances to these people. Most US vets struggle to find jobs that will help them and their loved ones live a comfy and easy life.
Most of our former soldiers may have suffered serious damages during their time of service. They are known as post-war scars brought by mortal conflict. These scars are the ones that hinder our vets from getting jobs.
Aside from finding jobs, the society deprives these old timers of receiving health care and housing programs. After their noble discharge from the service, veterans have little skill or time left to apply for jobs that will give them basic health care and other benefits.
Knowing that these vets cannot aid themselves from their own struggles, the state and private firms in the US have teamed up in order to save and help these heroes as they go on with their lives.
These sectors and firms give non-profit grants and non-cash gifts to groups that work hard to improve the status of our ex-soldiers. Their main goal is to give equal chances for veterans to get jobs and protect and uphold their human rights.
Here is a checklist of active foundations working very hard to protect the struggling veterans in the US:
For more info about grant writing and non-profit grants, you can check out our blogs page.