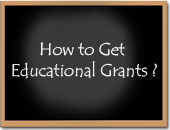 The cost of education is going up. To pursue this, you may opt for loans, scholarships, or grant education. Among the three, the grant is the sought after means to get into college. But before you start your hunt, here are crucial things to know.
How to Get Grant Education
1. Be aware of what an educational grant is.
It is money used to pay for your college expenses. Funders give monies for tuition and other overheads related to your studies. They expect you to complete the program and build a better future.
Unlike scholarships that are for students with honors, grants are for indigent people. Since the giving depends on the college course, it is best to go for various programs. It would also help if you apply with many funders to increase your chances of getting into college. Aside from private source, the US government also give free education. You may choose the Federal Supplemental Educational Opportunity Grant or FSEOG, the Academic Competitiveness Grant, and the Pell Grant to get into college.  Also, you have a wide chance if you will take teaching, science, math, and engineering programs.
2. Grasp the ways on how to get the fund.
Since applicants are greater than the amount of money allotted for the program, funders narrow down their targets. They will sift them based on income, disabilities, ethnicity, or field of studies. So in getting the fund, you have to know the guidelines of donors. Keep in mind that federal or state grants, community-based or non-profit groups, colleges, and universities have their own procedures. You should know what they offer, the deadlines, and needed documents. Moreover, you have to follow the rules.
 3. Know and prepare what you need.
You can work on your request anytime and anywhere. If you know the requirements and deadlines, then you can manage the application. Apart from knowing the funding sources, here are other things to know:
Write an educational grant proposal or use the form issued by the donor.
Be sure to submit the required papers such as narratives or other proofs. Incomplete documents can be a cause of losing the grant.
A committee will review your application. They will decide if you deserve the fund or not. When will you know the result? It comes out within a stated date. If you win the grant, funders will send you a letter or an e-mail.
After winning the grant, the institution will get a check to pay for your tuition. In fact, checks are not made payable to a person, so the money go to your chosen college or university.