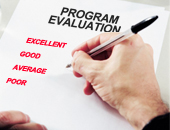 In a grant writing outline, you have to include program evaluation (PE) in the proposal. This part, if done well, can compel funders to approve your funding request.
As a grant seeker, you know that funders approve worthwhile project. Aside from this, you know that they consider proposal that can explain the program very well. As such, through PE, you give them a clear view of how your project can attain success.
Uses of Program Evaluation
Aside from weighing program's feat, funders will use this part to find out if you have right knowledge and skills to carry out the project. This will also help them to come up with a good decision by doing these things:
Verify if your program will help your targets.
Identify the strengths and weaknesses of the project.
Know if the project can meet goals.
Detect if the project is feasible.
Produce valid points in making judgment.
Decide if they will approve the project or not.
PE is useful for you so that you can work on your project effectively. Having assessed the outcome of your project, you can do the following:
Understand, verify, and/or increase the impact of products or services on customers or clients.
Have an effective and cost efficient delivery.
Ensure that the project goes with the plan.
Use other options to resolve missed goals.
Produce data for promotion.
Look if the project has potential for replication.
Types of Program Evaluation
Different PE methods yield unlike results. It is up to you and/or the funder to decide on the methods to use.
There are three types of PE: goals-based, process, and outcome evaluation. Each of these requires collecting of information as you implement the project.
Goals-Based
The aim of this assessment is to know if the project met its purpose. You have to use a method to show that the project achieved its goals at a certain period. To design this, you have to list your goals, and the plans or activities to fulfill them. Also, record the resources you will use, and other options to meet goals while you carry out the project.
Process Evaluation
This measure the actual course used for the proposed project. This scheme will help you and funders understand how your project will work. It assists you to resolve complaints and improve project delivery. For funders this will also help them gauge long-standing projects and its changes.
To design this type, include information of the process and operations. Gather important details such as client's feedback and comments, and staff's opinions and suggestions on service delivery.
Outcomes Evaluation
This is the common assessment that funders look into your proposal. This has been useful for nonprofits to win grants. Although goals direct the project to yield results and outcomes, this differs from the goal-based type. It ensures that the project meets and achieves its goals.
To design this, tell how you will reach expected outcomes. You have to create well-defined measures and indicators to arrive at these outcomes.
Disclosing ways to assess program's success is a crucial part of grant writing. This furthers the worth and viability of your project. Thus, you will find it easy to convince funders to consider you for the grant.
If you don't have time to assess your project, you may turn to grant writing services for help. Their skills and year of experience can provide you a good program evaluation that will help you get the fund.