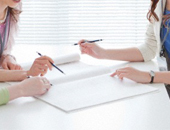 Making grants all by yourself is a tedious task. It requires a lot of time and effort to research the things that will make your proposal compelling. So if you're willing to take the risks of writing, heed this grantmaking tips.
To get funds from noble people and groups, keep in mind that you need to include all vital info that will further the need for the project. For instance, the project is about saving the trees in your area. You then need to supply the project with hard-nosed proofs, studies, and sources that will pinpoint the project's value in the lives of the many.
Grantors may not know anything about the after pregnancy period known as postpartum depression. In this light, the writer needs include excerpts, studies, and facts from books about the disease.
Grantors are also interested in info related with the program. For instance, your project supports the mental needs of paranoid adults in your area. You then need to boost your draft with cause and effect studies and reports related with paranoia as an added factor to other mental ailments.
Grantmaking Tips
Here are some grantmaking tips in gathering your data for the case or need assessment.
For studies that need to focus on the US
Giving grantors vital info about your target population is one of the basics of writing a good request for funding. When writing a request geared for the progress of a certain group of people in the US, www.census.gov gives the author a detailed and complete table of the country's states and counties.
 Use Scholarly Resources for Anecdotes
Writing using feelings alone to convince grantors is not going to work. There must be a balance between truths and reason and with this, the author must sprinkle the draft with existing studies related with the project. For instance, the program focuses on hair fall syndromes among males. The writer needs to adorn the proposal with scientific data, case studies, and findings of the experts about the harshness of hair fall.
The entire output must not solely dwell on the writer's view. An effective grant should include both facts and ideas to convince grantors of how the project will positively affect the society as a whole.
For more of our grantmaking tips, you can check out our blogs page.