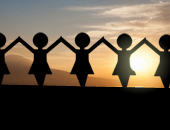 Back in the old days, and even in some sheltered places today, education is not a priority for women. The elders are molding them to raise their children and focus on their married life. Although taking care of their family is a bundle of joy for most mothers, earning a college degree is increasingly becoming more vital for them.
In today's highly competitive world, having a career directs the way of living for most people and their families as well. When their children start going to school, however, they may soon realize the need to contribute money for the family's expenses.
But how can they go back to school to complete a degree and get a good paying job? How can they push themselves to conquer current economic hardships of the family and society?
Grants for Women
All they need is to look for grants for women that intend to help them return to school and earn a college degree. The grantors know that having a higher level of education can help them achieve personal and professional growth as they re-enter the workforce.
These grants are financial aid that helps the low-income women pay the expenses in school. These funds are given to them like an award. Unlike loans, these funds are non-taxable and you do not have to pay it back.
Grants are distinct from scholarships and loans. In scholarships, the funding chances are limited, while in loans, the lender needs to approve credit history first. The grant money can cover the whole or a small portion of school expenses. The amount can depend on the grant type, which must be applied for every year or semester.
Some funding groups offer awards for a certain field of study, giving ample sum of money ranging from $5,000 to as high as $20,000 or more. The fund may be used to pay for tuition, books, supplies, and, if needed, living expenses.
Funding sources that offer grants for women include universities, colleges, business schools, trade schools, etc. Other types of funding include government funding through the Federal Supplemental Educational Opportunity Grants (FSEOG), the Pell Grants, and state grants.
Are all women fit for funding? Those who are fit to apply are those who can prove a financial need. Those who aspire for higher education and career growth can perhaps receive specialized financial support if they know where to look for.
It is now possible to take advantage of the chances that grants for women can give to those who will make efforts to gain it. If they believe they got what it takes, they can approach a financial advisor to explore their options.
For more info about grants and grant writing, check out our blogs page for more helpful tips.