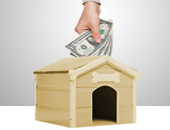 There are times when people can no longer take care of their animals and pets. During such event, animal shelters can be a sanctuary for those pets that have no place to go. Great news, you can now get grant money for animal shelter.
What They Do

Animal shelters play vital roles. These include:
1. They help control and regulate the animal population in the community.
2. Using their network of contacts, they can also help search for missing pets. Some offer these services free of charge, while others provide these for lower costs.
3. They provide a safe and caring environment to lost and abandoned pets.
4. They offer food for pets.
5. They offer grooming service.
6. They offer vaccinations, sterilization, or other veterinary drugs to keep these creatures healthy. Without these shelters, our pets will suffer and die.
7. They provide adoption services and animal education to the community, some of which are under the support of the city or county government. In relation to this, they can also encourage animal-loving families to provide abused, unwanted, and/or abandoned animals and pets a second home.
Anyone can apply for pet adoption. But it entails a thorough process. The animal shelter will evaluate and approve applications based on some factors: right type of animal that matches the needs, requirements, and caring capabilities of the prospective owner.
The weight and extent of these functions, tasks, and responsibilities in the wake of animal cruelty calls for an urgent need to seek for grants for animal shelter that will teach citizens to become responsible wards of these helpless creatures.
Know The Figures

American Pet Products Association says that in 2011, there were 62 percent households in the US that owned a pet. About 46 percent of them owned dogs and 38.9 percent owned cats. The rest of the pet owners had birds, fishes, or reptiles. Most pet owners had at least one dog or cat, while others owned two or three.
Based on gathered stats from various market research sources, the country's pet industry spent an estimate of $52.87 billion in 2012. These were mainly spent for pet food, vitamins, toys, supplies, grooming aids, veterinary care, and other pet needs.
How Do I Get Grant Money for Animal Shelter?

Grants for animal shelter are offered in response to the needs of abandoned and abused pets. There are many funding sources that offer aid to support emergency response and disaster recovery for animal companions.
During times of economic crisis, many pet owners, on the other hand, cannot afford to buy food or pay the veterinary costs for their pets. This causes illnesses that may lead to death.
The amount of funding for animal shelters ranges from as small as $500 to more than $5,000. It supports various projects and programs for pets.
Do you operate an animal shelter or rescue group but have no enough funds to fulfill your goals for the pets in your area? If yes, you should look for grant money. How are you going to do this? Heed these tips:
1. Join groups and online forums. Look for those who share the same passion as yours.
2. Seek help from others. Look for funding sources that support animal care.
3. Prepare a compelling grant request.
If you can't make a good proposal, seek help from expert grant writers.