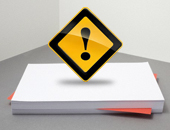 Have you ever experienced losing a grant? You often think of many causes. Maybe you haven't made your purpose clear or your writing is not good enough. Or maybe, you just don't know how to do grant writing right?
Maybe you just have to read on and find out why your proposal fails you.
How to Do Grant Writing Right
In truth, most proposals have been rejected because of mistakes. So shield your proposal from these grant writing blunders:
1. Not following instructions and qualifications.
Be obsessive-compulsive on instructions if you must. But, never underrate the grantor's notes if you want to send proposals. It is very important. The practice might save you time and resources. Keep in mind that thousands of proposals have been dumped because the organization fails to follow the guidelines. Be more cautious and only apply where your project fits.
2. Getting too unreal.
Most grant seekers forget to ground their projects with realistic budget and timetable. When this happens, the project won't be approved. The best way to prove to the benefactor that you are worth the try is not just by telling about your beliefs and vision. You have to show how to do it and where to use the fund. So make your project feasible that the giver will not have qualms on you.
3. Failing to set the receiver apart from the benefactor.
In a set-up of grant for nonprofits, remember that the funder will not give the money to you. He will give it through you. Always put yourself or your group apart from your charity. The more you emphasize your recipients, the more that the giver will likely award you the fund. Don't tell that you need the $5,000 so as to keep your campaign running. Instead, tell that you will use $5,000 for the school supplies of children from low-income families.
4. Not talking about specific goals.
Some people forgot to name the figures. Some people forgot to tell the real objectives. Any important details that may be missing is crucial to the decisions of reviewers. Also, tailor your proposal too the funding agencies. It is the best practice to let them know how your goals align with theirs.
5. Little focus on the 'how'.
Grant seekers explain why they should receive the fund. However, only a few focuses on how their goals can be achieved through the award. As such, you have to describe each step to take in order to attain your aims. Every funder needs to know how you will carry out your project.