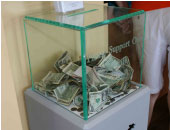 Like any other nonprofit projects, soup kitchen project also go through problems during tough times (like this). The current economic slump affects the operation of various soup kitchens across the country.
Since soup kitchens are not just a "charitable cause" for homeless people, but also a source of hope that enables them to extend their lives by a couple of days more. The fact that they largely depend on volunteer labor, these programs require money to continuously operate their programs.
Each nonprofit employs good techniques to gather money for their soup kitchen projects. Some use donation boxes while others conduct campaign programs to gather volunteers and donors. The question now is: for how long can your soup kitchen survive during this time of crisis?
What You Should Do?
Due to recent crisis, funding sources have become selective when it comes to grant awards. This prompts many grant seekers to look for food donations from restaurants, local grocers, and other people. These funders often donate kitchen tools, as well as money, and other materials needed in running the soup kitchen. Getting an aid from private businesses and foundations can be less daunting if only you can write a good grant proposal. To make one, heed these tips:
Know your need.
Whatever the purpose of your request may be, (e.g., acquisition of kitchen tools, renovation of the hall, etc.), make sure that you identify it. Tell your need and describe how your proposed project can address that need. For acquisition project, list down items along with their costs.
Search for funding sources.
After knowing your need, it is, therefore, necessary to find out if there are available grants for it. You can also check for programs that offer services similar to yours. Knowing their existence could mean there are grants for that type of program. Moreover, you can check local philanthropists in your community that offer grants and know if you qualify. Make a short list of foundations and private organizations that give grants to your cause.
Meet their criteria.
Before you sit down and write your request, make sure that you fit into their criteria. Many grants get rejected each cycle due to applicants' failure to meet criteria and follow instructions.
Follow certain guidelines.
When writing your piece, you should cite these details: the need for the proposed project, the reasons why that project is vital, the scope of activities, and your target participants. Also, compile all required documents and attach them to your proposal. When you can't present the files, make a short note telling why you can't provide them.
Aside from handing a sound proposal, it is also important that you create a good working relationship with the funders. Communicate with them and be true to your mission, so you can draw them into your project and soon convince them to give more to your cause.
A grant request is your key and perhaps your last hope to keep your social causes alive. Hence, write it the best way that you can. If you can't do it, seek help from expert grant writers.