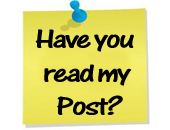 "Have you read my post?" I have been busted by this question for a number of times every day. With a number of blog-addicted friends and colleagues, I should have been used to it.
With the booming technology, it gives birth to dozens of new and exciting innovations. Even grant seekers and funders seek a chance to keep pace with trends on the Internet. Aside from many social networking sites, the new "IT" thing makes its way to your computer screens: blog.
Blog or blogging has set its own niche in the cyberspace. As a public and free material, you can easily read other people's thoughts or own views of various things. In fact, there are blog sites who give you access to type in your thoughts and vent out your opinions on the web. Now, anybody can say what she wants via this medium.
Aside from being a channel to express one's views, blog is also used to promote products and services. Business-minded persons and companies use it to foster goodwill and their company image. While many for-profit companies maximize it, non-profits organizations are yet to find out the benefits it can bring them.
If you have a non-profit group, is it really helpful to use a blog site in search for grants?
The Aftermath of a Blog Site in Seeking Grants
1. Increases Internet exposure.
Grant donors are becoming techy these days. With billions of Web sites that flood the busy Internet, how can you navigate with grants? With a lot of organizations, how will funders find you? This is where blogging comes in. If your blogs are read and shared by millions, your web can have higher rankings in search engine. Since a blog boost your visibility, searching your web is easier and hassle-free for grant funders.
2. Provides a better way to communicate and find donors.
These materials are extra tools that can help you convey your needs to a wider and diverse audience. Since readers can leave comments, readers can leave notes and lead you to funders. Just be careful and leery with posts. They might give you the sites that ask for a fee. More likely, these are scams, so you really have to be cautious and check out the links.
3. Builds up a good image.
Positive feedbacks on your site are a plus factor that mark a good impression to grantors. They will see you as a credible group that can earn their trust. If you apply a grant from them, for sure, they will fund you. On the other hand, if you get bad comments from your readers, you can use blogs to counter their claims. Thus, a blog site is your free and effective way to uphold a good image.
4. Makes you unique from other non-profits.
Since blogs give your non-profit a personal touch, your value to your readers and target audience increases. These write-ups can also showcase what you can do and how your cause will benefit many people. Let them see your edge against other non-profits through your well-written posts.
5. Shows off your experience and expertise.
Your blogs can show your potentials to handle complex and various projects. Once funders noticed how experienced and determined you are, they will approve your request. Thus, your blogs can give you a heighten chance to get funding.
You don't need to be a techno-geek to make the most out of blogs. Just have the heart and dedication to write and update your time-consuming blogs. But all of the possible drawbacks will pay off once you get the grant through the help of your blog.