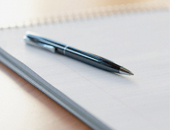 We often hear "from rags to riches" stories. These are really inspiring and can encourage during this time when people experience hardships in life.
Have you ever heard about a success story caused by a mere grant proposal?
Can't believe this one? This is true and this happens often, mainly in the world of nonprofits.
The luck of every firm seeking for funds would depend on how it presents the documentation to potential funding sources. Once a funder is convinced of the need for the proposed program, they will allocate funds for it. So it is very important that a nonprofit group or even an individual craft an effective grant proposal.
What Makes an Effective Grant Proposal?
Writing has many varied forms. One of these is the grant writing. Unlike the others, this form is difficult and is tedious to make. It takes knowledge and passion before one can come up with a nice documentation.  If you're not going to pay attention to its every part, you may lose the chance of getting the required funds for you to launch or continue the meaningful program.
On the other hand, if you're very much keen on its content and on the guidelines and standards set by the funders, then, you'll have high chances of getting the prize. With its importance, it is necessary that the writer is aware of the things or aspects that make it effective. These things include the following:
Make the narrative interesting. Honestly tell the story and do not exaggerate.
Cite your purpose. Why are you asking for financial aid? What is the impact or outcome of the program?
Cite the ultimate goals and objectives. Make sure that these aims are in-line with the foundation's goals and mission.
Include related studies done recently. This is to prove or justify the need for funding aid.
Know all the sections it must contain. Do a research. Apply all these things onto it.
Do not commit any errors. Proofread your work or have a pro check it for you to make sure it's error-free.
What I am trying to say earlier is that one and even more can emerge victorious just because of an effective grant proposal. Here's why.
When an application is approved by the foundation's board members, then, funds for the proposed project will be disbursed. This is the start of everything—a beginning that is really life-changing.
Some of Actual Success Stories
A community is helped by a funding assistance through great technology-driven services.
Out-of-school youth are served by philanthropists by sending them to schools.
Many helpless children finally found a safe haven as many groups advocating for their safety got the funds for various projects for them.
A new high school graduate from low-income family got the chance to continue his college education from scholarship awarded by a private foundation.
Refugees who belong to the minority are now worry-free after their concerns are addressed by a grant proposal approved institution.
An elderly couple who wanted to have their home renovated finally got the help from a private funding.
These are just few of the real-life stories that happened and will possibly happen as long as the foundations are there to help the less fortunate people in the community.
For more info about grants and grant writing, please feel free to call us or explore our web site.