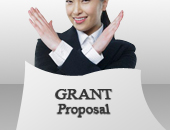 So you didn't win the grant. You've worded your plans and advocacies with a burning passion. You've consulted everyone in town about the paper. You've spent a sleepless night perfecting that 10-page proposal. What could have gone wrong? Is it really hard to create winning grant proposals?
If you're still clueless why your grant application failed, you can mull over these reasons. Allied Grant Writers (AGW) reviews why funders turn down your application.
Flaws that Ruin Winning Grant Proposals
1. Instructions weren't followed.
Things could flow smoothly, if you didn't just ignore it all in the first place. When funders say ten pages, don't give eleven. Or don't break the rules and make the fonts smaller. As a person seeking for funds, your job is not to simply be seen. Your job is to make your proposal agreeable to the panelists. Whatever the grantor's guidelines and requirements are, consider them as conditions to qualifying for the free money.
2. Doing bad math.
Maybe you have the guts, you have the starry-eyed passion, but you just didn't add it up correctly. The budget allocation is a crucial part of the grant proposal. Make sure that everything is clear and honest. Computational errors are gaffes that take a lot of time to correct on the part of the funder. It will be a big inconvenience to them considering how many proposals they still need to evaluate. And about inflated prices and wild guesses on the budget, panelists aren't stupid. They knew the exact prices of your materials, otherwise, they will Google it.
3. Grant application to anyone.
There are so many prospective funders, tight deadlines, and very little time to create proposals for each of them, so what would Lone Ranger do? Should you make a grant proposal that will fit all of them? That idea is not a brilliant move.
When you're faced with a dilemma, you have to choose. Or else, lose them all. Strategize on who is most likely to award you the fund, or who could give what you exactly need. If you have to ask from all of them, then seek grant writing services to help you customize your proposal.
4. Unclear contact details.
Funny how there are so many grant seekers who actually did all the measures to impress the panel, and then left no traces to contact them. Remember that it is also very important to introduce the panel to the one they should contact in case of concerns with your proposal.
With the knowledge of these gaffes, this Allied Grant Writers' review should provide you with the best way to avoid them by either letting an expert panel review your proposal, or letting a professional writer customize it for you. Or better yet, keep an eye on the details.