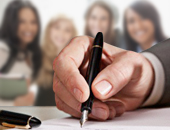 Grant writing for education often entails a cover letter. But it is different from the ones enclosed in other grant applications.
Cover letter for college scholarship looks like a personal essay. This piece entails a brief background of who you are, why you apply for scholarship, and what the school can expect from you.
In many cases, entities that give scholarships require either a letter or essay, instead of a proposal. As someone needing this free college, you may ask if it is easy to write this letter. In fact, yes, if you pay heed on these things.
Beefing Up a Cover Letter in Grant Writing for Education
Colleges that give scholarships look for motivated and enthusiastic candidates. They are those who have leadership skills; knowledge in his or her chosen field; serious and mature in pursuing his or her goals; and have planning, organizing, researching, and problem-solving skills.
How to write a grant cover letter for scholarship is a matter of choosing the right words without exaggerating or downplaying your worth. You may follow these tips in doing your cover letter:
1. Begin with a strong introduction.
To write an effective cover letter, you have to start with a powerful phrase. This means you need to develop a strong thesis statement that will show that you are a good candidate.
2. Group your content into sections.
Aside from using some details from your resume, split the content into sections. You may include your education, scholarships and awards, previous work experience, as well as personal goals. You may mention your volunteer work, research projects, affiliations, and scholarly papers. To discuss each section, talk about results. Highlight your good qualities and expertise. At this point, you can review the qualifications posted in the announcement. How did you show your sense of efficiency, accuracy, and responsibility?
3. Be original and write with sense.
Schools or foundations assess your writing ability, too. This is your chance to prove your worth. Use meaningful, descriptive, and convincing words to write your narrative. Arrange your composition in a logical way. Use active words, but avoid being too wordy. Most of all use the right format.
4. Address the letter to the program officer of the funding source.
If you don't his or her name, then you may contact the school or foundation.
5. Polish it up.
After you write the vital parts, you should make a remarkable conclusion. To impress the school or foundation, speak of what they can expect from you. Don't forget to double check and proofread your copy for errors in grammar, spelling, and punctuation.
By following these pieces of advice, you can learn how to write a cover letter. If you still want some help, turn to grant writing services. They have the right skills to create an impressive narrative.