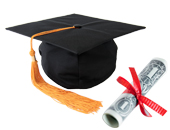 "In a knowledge driven economy, the continuous updating of skills and the development of lifelong learning will make the difference between success and failure, and between competitiveness and decline." – David Blunkett
Earning a good education is a lifelong investment. This could mean a good career and job options. But not everyone has the chance to continue to college due to financial matters. It is the foremost reason that impedes a person to pursue a schooling. For this reason, grant for education has been established and has become available to help needy people in their pursuit of having equal chance for good education.
Learning is more than the basics of reading and writing. It gives knowledge that can be applied in various expertise and profession. Those practices that can be gained at school include discipline, hard work, and perseverance. These traits are vital to help people succeed in the corporate world. Thus, education should not be ignored. In fact, a research explains its relevance to employment, as well as the value of higher education. The research shows that a graduate of bachelor's degree is unemployed at 6.1 percent as compared with associate graduates, which the stats shows, has 8.8 percent jobless rate. Also, it is a fact that it helps us know the changing needs of our community.
Grant for Education
Applying a grant for education is a tedious task. There can be a hundred hopefuls for a single grant award. Hence, writing an excellent proposal will give you an edge of finding a funder who will consider your aim of going back to school or furthering education. Here are some helpful tips in writing a proposal that will surely win a grantor's heart:
Know and prepare the set of requirements.
Gather enough grant writing info.
Set your goals and objectives.
Clearly state the value of learning.
Lay out action plans.
Describe your fitness for the grant.
Present a detailed budget plan.
Cite related articles that can support your needs.
Attach a cover letter and letter of intent.
Seek the advice of experts.
Proofread your work.
Call the grantor for inquiries.
Submit the proposal on time.
How to find a grantor?
After the tedious process of researching and writing a grant for education, you are now a step closer to your dreams. It may not be that easy to find a grantor, but it pays to seek one whose goals match the needs of your project. Take note that funders may change their terms; so, it is best to contact them to ensure your document remains on the right track.
Grants for education are awarded to be used for a worthy cause. These are funds that aim to offer help to those who wish to go back to school in pursuit of having a good education to respond to the changing demands of the corporate world.