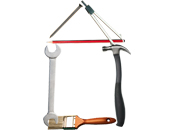 Every person needs a home to live in. Simply defined as a place to rest, grow, and age. Living in your own home promotes safety, stability, and comfort to the whole family. Aside from this, having a home produces greater self-esteem for adults, which, in turn, gives more positive home ambiance for children.
There are other perks of having a home, these include:
Health Gains.
Having a home will allow you to live a stress-free and comfy life.
Social Gains.
Having your own home will allow you to build a close bond with the people around you.
Benefits for children.
Kids who live at their own home are more confident, happy, and motivated to learn.
A home is a vital asset that a person can own in a lifetime. The owner must take care of it for it shelters the dreams of every family member.
Sad to say, nothing is constant and our home also suffers as we age. Sturdy walls will crumble and furniture will show its rust as time passes by.
Limited financial allotments require homeowners to think of something to preserve their nest, which 'houses' close to a near thousand memories.
Families prioritize the repair of their house to remove any hazards and make it more convenient to their loved ones. This includes elders who suffer from aging and the children who grow each day. Common repaired areas of the house are the bathroom, kitchen, and the bedrooms.
Most common change for a bathroom include change of slick tiles, added grab bars and rails so that old or people with disabilities are safe even when they use it alone. The kitchen, on the other hand, is upgraded with the latest and user-friendly cooking tools and kitchenware to avoid accidents.
Adequate bedroom upgrades must cover at least a portion of the total budget for the home renovation.
Failure to install safety hazards inside the house can harm any household members mainly kids, elderly, or people with disabilities. Injuries caused by household materials and structure are known to cause about 75% of deaths worldwide, making it 6th among unnatural reasons why people die.
Here are some tips to avoid house-related accidents and deaths:
Install handrails on stairs.
Maintain a clutter-free walkway.
Install adequate lighting.
Install grab walls beside the toilet and around the bathtub.
Put non-slippery mats inside the bathroom.
Install shower seats.
Remove cords from walkways.
Avoid using floor wax.
Home Renovation Grants
Luckily, the federal government is ready to assist owners plagued with home-related problems. As part of the US government's duty to aid every family, home renovation grants and loans are awarded to people that are able to produce grant proposals explaining the condition of their home.
The grants and loans are produced to give weight on power saving, green projects, and repairs for heating, electrical, or plumbing. This chance is given to those who live in non-urban areas with people that are less than 10,000.
Home renovation grants are given to worthy people who are in dire need of receiving help and if the grant money will be used "only for home renovation."
For more info about grants and grant writing, check out our blogs page.