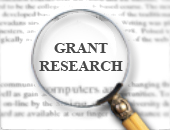 Grant research, is a time-consuming yet important aspect of the application process. Without this, it will be more difficult to resolve all the issues related to the funding source.
The process hopes to address a lot of questions, such as: what is the underlying cause of the problem that needs to be addressed? What is the current condition of the community to be served?
What is the project all about? Why is the project important? How long will it take to be completed? What are the missing links that needs to be prioritized?
What are the specific activities that the organization will do? How will the organization do it? What are the expected results? How will the organization interpret these results?
Research involves generating relevant and reliable information in order to formulate correct interpretation and analysis, whether it is related to health, literacy, housing, environment, youth and children, job recruitment, public safety, or neighborhood revitalization.
Research means doing your homework and setting criteria whether goals are met or not. Many entities such as non-profit organizations, public charities, schools, colleges and universities, medical think tanks, and other agencies are primarily looking for funds, and funding sources are looking for them, too.
Private foundations fund worthwhile projects. They make it clear what they fund and do not fund. Under the law, fund seekers can also request funding from the federal, state, county, and local governments, for as long as they can be able to fulfill eligibility requirements and other guidelines.
Through grant research, fund seekers will be able to determine at an early stage whether their time reviewing an array of opportunities was well spent or wasted.
Taking the Right Steps in Grant Research
Below are some helpful ways when looking for funding opportunities and programs, depending on the circumstances.
Always write down on a piece of paper several keywords related to your funding request or proposed project. These keywords are vital to generate effective search results.
Some tips are to clearly articulate an urgent, specific need for funding. Begin the process in accordance to the need to be addressed. If the information pertaining to the seeker does not fall within the parameters and guidelines set by the funding source, it will be best to cross out that source.
As soon as the prospective funding sources have been identified, an officer or authorized representative of an organization must take the right approach of initial contact.
For private foundations, this matter can be done by mail, e-mail, telephone, cellphone, or fax message. On the other hand, federal funding agencies may require interaction depending on the need and available funds, but may also need little contact.
To boost your grant research efforts, you may purchase a subscription to The Foundation Directory Online, which can be accessed at http://fconline.foundationcenter.org/. This web site provides a database of private foundation grants available to non-profit organizations and individuals. For government funding assistance, you may visit www.grants.gov.