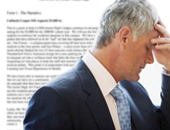 Writing a proposal to obtain a grant needs special attention. Think about your application from the perspective of the evaluator, and then ask yourself, "Will my project standout or will it just be ignored?" Having a bad grant project will not help you win the grantor's attention and approval.
Tips in Writing a Proposal
1. You need to prepare.
The first thing to do is to know the rules. Read carefully the guidelines in order to find out how the application will be processed and assessed.
Call the program officer of the funding source over the phone to ask questions about matters not included in the information already published. Don't forget to remember the name of the person you spoke with in case you need to call again.
You can inquire about the type of projects they are looking for, the size of grants expected to be awarded, the number of applications they got so far, the things they don't want to see in a proposal, and the person(s) who will review the application.
2. The competition factor.
Be reminded of the possibility that there will be more applications rather than funds being offered to deserving applicants. Competition is an expected factor. At this point, you need to show that yours has an edge over others.
You must let them know that your project is a good match to their funding aims. This may seem easy, but actually the fate of the project depends on whether they find it worthy or not.
3. Start writing now.
The first thing to do is to organize your thoughts. Read carefully each question first in the application form and then think about your answer before writing it down. You must be able to explain your project in a brief form, most importantly the reason for, and aim, of the project.
Do not assume that the reader knows the obvious. Write as if the reader totally knows nothing about your project or organization. Your answers must be simple and concise. Prefer using familiar words instead of jargons to make your writing easy to read.
The format must be basically simple and consistent. The best tip is to smartly use headings, bullet points, and diagrams, which are in fact helpful for the reader to navigate through your proposal. To present key info, you may include photos, maps, and tables, but only if it is appropriate.
Keeping it short and simple allows the reviewer to read your work more quickly and, thus saves time. Get someone to read your draft, preferably someone who is not part of your project or organization.
4. Complete your application.
In writing a proposal, as much as possible, do not leave anything blank in your application form. Complete all boxes and spaces provided. If there's a question that you think doesn't apply to you, write "N/A". If the guidelines say there is a word limit, then stick to the rule.
Attach supporting papers along with your application. Preparing this may take some time so start as early as possible. The program officer will expect to receive supporting documents for your project such as financial statements, letters of support, among others.]
Do you find this article helpful? Learn more about grants and grant writing by scanning through our blogs page,