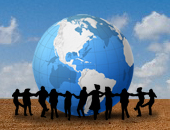 Non Profit Organizations (non-profits) aim to provide worthwhile projects for the benefit of the less fortunate ones. They are not public agencies, but they do generous works to bring a good change. As such, funding for non profit organizations is vital to attain their noble missions.
In the US, non-profits have a 501(c) (3) status. These groups can be in a form charities, foundations, religious bodies, and business entities. They focus their giving on arts and culture, education, environment, health, human services, and others.
Based on Learningtogive.org, an online resource on philanthropy, the Internal Revenue Service or IRS has around 1.2 million non-profits. In fact, there are millions more small formal and informal non-profits not included in the IRS list because they have revenues of less than $5,000 per year.
Ways to Search Funding For Nonprofit Organizations
Failure on the part of the government to aid programs and services drives non-profits to search for other funding. To support wider communities and more people, non-profits look for ways to acquire more funds. Aside from donations given by friends, grants from foundations, corporations, and private entity are great funding sources.
If you opt to apply for grant funding, patience and hard work are necessary to get the "prize." Here are some helpful tips on how you can get more funding sources:
1. Solicit donations from donors with similar interests.
They may be relatives, friends, colleagues, or clients whom you have known for many years. Prepare a list of people you know, who you think will donate.
2. Search for potential funders.
The internet is a good source of funders. There are giving foundations that are searchable online. This is their way to spread their giving mission and to aid more non profits. You may also collect funders' telephone numbers, e-mail addresses, or addresses so you have a way to contact them in case you need to.
3. Create a web site to promote your cause.
The internet is a good channel to foster your social crusades. It can reach audiences across the world. Through your online hub, people can learn more about your venture, share their comments and testimonies. What's more, you can invite them to donate and show them an easy online process of donating.
If you happen to receive anything, make it a point to thank them by sending an e-mail or publishing them on your Web site. But if there are donors or funders who prefer to keep their giving private, then do so.
4. Expand your network.
You can join local or national groups to meet people who can help you find funders. For other non-profits, they seek help of grant writing services. They do not only write proposals, they also search viable funders for your projects.