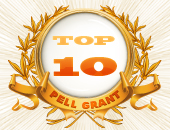 A Pell Grant is the financial aid offered by the US federal government for students who need it to pay for college. This fund is awarded to the "neediest" based on the Free Application for Federal Student Aid (FAFSA), and who have not yet earned a bachelor's or professional degree. However, exceptions are made from those who are enrolled in teaching programs. This fund is one of the best financial aids because, unlike student loans, it does not have to be repaid.
What Should You Know about Pell Grant?
Here are the FAQs on Pell Grant, along with their answers. If you want to obtain this type of grants for education, make sure you know the procedures and schemes well to avoid confusion.
1. How do I apply for the scholarship?
You have to fill out a FAFSA and submit it within the set deadline.
2. How can I fill out the application?
It can be filled out in three ways:
Log in to the FAFSA page (www.fafsa.ed.gov) to apply online, which is the best option;
Complete a PDF FAFSA which must be mailed for processing; or
Request a paper FAFSA by calling them at 1-800-4-FED-AID or 319-337-5665.
3. Who is eligible to receive it?
You must show your need for financial aid in order to attend college. Your need can be determined by the calculation of your expected family contribution (EFC), which is produced upon the completion of your FAFSA. It indicates the amount of money your family can contribute for your college education. It also determines your eligibility for the Pell, as well as how much you will receive.
In order to be eligible, the applicant must:
Be a US citizen or national, or eligible non-citizen;
Have a valid SSN;
Have a high school diploma, or GED cert, or passed an approved "ability to benefit" exam;
Show satisfactory academic progress;
Be enrolled in a recognized participating post-secondary school;
Pursue first undergraduate degree or teaching credentials;
Certify that the funds will be used solely for educational purposes;
Not have any current federal student loan or owe a repayment of any student grant aid; and
Be registered with the Selective Service (for males between the ages of 18 and 25).
4. Can I be a recipient even if I am a part-time student?
Yes, you can receive the funding even if you are a part time student, as long as you meet the eligibility requirements. However, the amount you will receive may be reduced.
5. How much can I get?
The maximum award amount is $5,550 per academic year.
6. Who determines the amount of funding I will receive and how is it determined?
The amount you will receive as a scholar is determined by your school's financial aid office by using certain formula and taking consideration of different aspects such as your EFC, your enrollment status, and the cost of attendance of going to college.
7. How will I receive the money?
The aid will be either directly deposited to your account, or credited to your account balance.
8. When will it be disbursed to my account?
It is often disbursed to an account about 10 days before the start of each term.
9. How long can I be eligible as a recipient?
You can receive the scholarship as long as you continue to meet the established requirements for eligibility. If it takes longer than expected to complete your degree, you just have to maintain good academic standing. However, you can only receive one award per academic year.
10. What if I decided to withdraw from one or more than one of my classes?
If your enrollment status changes before you receive your fund, the amount will be altered by your school's aid office. However, if your enrollment status changes after you have received the funding, you will have to pay back the difference. Not doing so may result to a breach in your record and make you ineligible to any future federal funding.
If you still have some other questions on Pell Grant, you can go to your financial aid office.
If you need a proposal to obtain grants for education but cannot make one, seek help from expert grant writers.