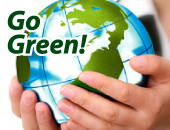 Care for the environment and natural resources has become a leading concern and priority among many non-profit and for-profit groups. In fact, issues about reducing our carbon footprints, recycling, and replanting tress are at the forefront of most community and state agendas.
These types of projects are very common in recent times. Truly, many people and groups join projects to help save, protect, and preserve our surrounding. With this global concern, an environment friendly business will make a great investment.
There are many ways and ideas on how to make your business "green." Below are among the popular ideas:
Environment Friendly Products
You can offer environment friendly products. Mind you, almost each type of product has their environment friendly counterpart.
However, the most common "eco" products are bags, notebooks, light bulbs, cosmetics, cleaning agents, and household tools. You may choose from these products based on your business needs, or you can also offer all of them. What's more is that these products have "cheap" price tag, which can further entice people to purchase them.
Good Packaging
Today people recycle paper and cartons endlessly. You can use recycled packaging materials for your products. You can buy these tools from recycling firms everywhere at very cheap costs.
You can eliminate the use of plastics by replacing them with any of the following recycled materials:
1. box
2. "eco" bag
3. reusable shopping bag
By using these alternatives, you're not only helping to save Mother Nature, but also saving a portion of your packaging expenses! Also, by telling your clients and patrons that you use recycled materials, you are also promoting care for our environment.
If you offer services and not products, you can still shift into going green. You can both use energy saving tools and use less paper in your office works.
Indeed, there are many ways for you to care for the nature. Earning money while caring for the Earth brings a good feeling.
Do recycle and reuse now! Spread the "green" campaign within your area.
Get a Grant
If you want to go green but don't have enough funds to do it, you can apply for grants.
You just need to prove to funding sources your goals in going green and justify your need for the funds. Prepare a good grant proposal.
If you can't make a great written request, seek help from expert grant writers. We can help you and your venture succeed!