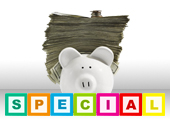 Special persons have the right to live. These persons could hardly learn because of hormonal or mental abnormalities. If they get good learning, they can achieve growth, too. In fact, grants can free them from the hardships they face. As such, grant development for special education is a worthy effort to help them cope in life.
The Worth of Grant for Disabilities
How many more lives should these defects ruin? Studentneeds.info says that 2.7 million students have learning disability. If we set the issue aside, what would happen to them? They might face more risks and go worst.
Some schools take and teach students with disability (SWD). Teachers use unique methods to guide them. They handle them in a different way they treat normal persons. These students get more care and kindness. But most schools lack tools and trained staff to carry out the program. Thus, people ask for support to give the needs of  SWDs.
A grant is the most sought-after program. This is a crucial one since it offers free learning, training, or services. The fund can build or aid special schools or give materials. Others will aid services to detect disorders. Through these funds, we can do early detection and intervention to handle the issue right away. In doing this, we can prevent further damage to SWDs and even help them become useful persons. This will enhance the cognitive, social, emotional, and speaking skills of SWDs. In fact, many of those who win grants have improved their skills and mingle with others. This progress allows them to work well despite their defects.
Where Should I Begin?
To search for a grant, you may begin with these basic steps:
1. Know where and what to look for.
To act on the needs of SWDs, the law mandates Individuals with Disabilities Education Act (IDEA). In fact, federal and private groups give assistive technology to aid them. So you may turn to state or local educational agencies. Non-profit groups also help them.
2. Read and understand the guidelines.
Why is it crucial to follow what the funders want? Not all funders give grant for special students. If you find one, they have a certain disability to fund. Also, the growing numbers of SWDs drive funders to choose worthy ones. They have limited fund to give that they assess them.They have rules and benchmarks to weigh grant seekers in most need. Students who have learning disabilities, autism, or other mental delays get the fund. There are also grants for the deaf, blind, and person with physical defects. These conditions affect a person's growth, thinking, and life  that funders see them apt for their help.
SWDs when given the right learning can live on their own. They only need education grant writing to get the support. A great proposal is their key to get the fund and have a normal life.