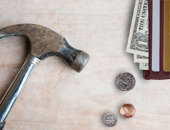 Do you want to renovate your home but you don't have enough funds to do it? Don't lose hope. There is still a way to make your plan work. This is through seeking grants for a home improvement project.
Improvement can mean anything from painting the walls, doors, and ceilings; fixing up certain parts of the house; renovating the bathroom, or putting tiles on the kitchen floor.
All these household improvements can cost you an arm and a leg. But they are the only ways to make the house more livable. Also, a major makeover can increase the value of the property.
Grant money can come from the federal, state, or local governments, and some other funding sources. Anyone can apply for it, as long as the qualifications and requirements set by the grantor are met. This type of funding does not depend on one's income, and never on the type, location, and age of the property.
What are Included in Home Improvement Projects?
The US government is giving away grants for home improvement projects. This aid can only be used to:
1. remodel the house to improve one's quality of life
2. maximize the house's space
3. repair interior and exterior
4. install energy-efficient heating or cooling systems
5. make the house livable despite occurrence of any emergency
Sources of Funds
1. The US Department of HUD offers repair funding aid for single family through the so-called Section 203 (k) program. Aside from fixing certain areas of a home, this program also includes painting and room additions.
2. HUD also offers Title 1 Program, which provides loans for moderate rehabilitation.
3. USDA's HCFP is open to those who reside in rural areas.
4. If you are a grant seeker who belongs to low income families or households, you can seek and grab local, state, or federal grants that offer financial help for projects that focus on security and safety needs.
5. If you own a property with historical significance, you can make a research about its glorious past. Through old photos of the place, you can request to restore the house back to its original look.
6. If your house is within an area declared as under a state of emergency, you may qualify for a repair funding aid from the FEMA.
Write a Grant Proposal for a Home Improvement
To obtain funding, a grant seeker must formalize his or her request by putting it in writing. This means he or she must provide the essential sets of info and submit the required files.
Details about grants for home improvement can be accessed online.
It takes good writing skills for you to compel grants committee about the worth of your proposed project. If you can't make a good proposal, seek help from expert grant writers.