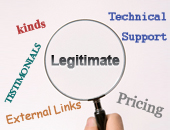 Be aware that there are scammers who have turned to grant writing that only aim to trick clients for money. So before you turn to grant writing companies, you should check first their credibility. This is to make sure that you will get a true grant proposal writing service.
To search for a real grant writing firm is not an easy task. Many optimized Web sites doing grant proposals continue to bout each other for rankings. Thus, search engines are now polluted with some fraudulent grant writing Web sites that do not really exist.
What Do I Need to Watch Out for Before Hiring Grant Writing Companies?
To help you in your search for a true and legal grant writing service, here are the things you should do:
Know what the company offers.
A fake grant writing website does not show different samples of proposals. They don't even display various grants they write. This is because its owner does not even know the basics of writing a proposal. Genuine service providers inform guests and prospect clients on various grants they write.
Check out the pricing.
Bogus grant writing companies will charge its clients double for a 7-10 page proposal. Compare their prices with other grant writing firms. Search for service providers that offer the same package and detect which has the most believable price.
The website has external links to grant writing providers.
Authentic grant writing Web sites has external links that lead to other grant writing groups. The link acts as a proof that the site's writers do proposals for clients. Moreover, check its affiliates' integrity as scammers bathe their sites with a make-believe list.
Look for technical support.
Search for the company's phone line for its 24/7 customer support. A grant provider's technical support implies that it has staffs to give real service. Also, this shows respects for clients who want to get real-time answers on their questions.
Review some testimonials.
Be keen on your approach to find the truth. Read some testimonial and judge if it's valid. These comments might also be fictitious ones. Check for the company's past projects. See to it that the project did receive funding due to the quality of the proposal.
If you search the Internet, you will find more grant writing companies offering help for your application. By just looking into their Website, it's hard to discern which is the real one. So be very cautious and be patient enough to check all of them.