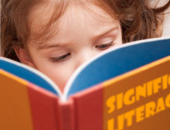 The world is filled with words. They appear on signs, documents, and books. Being able to read the words helps us grasp the message. Without understanding, it will be difficult to relate to other people and the entire society.
This is perhaps the reason why literacy is very important not only for communication but also for human survival. Children at an early age should start learning how to read and write before they become adults. Reading and writing actually develop an array of skills they need to cope with life's trials. These are, indeed, a vital achievement in early childhood.
Effects of Grants for School to Literacy

Proliteracy.org says an estimated 30 million people over the age of 16 in the US read no better than the average elementary school pupil. Nearly 800 million adults all over the world, meanwhile, are illiterate in their native languages.
To reduce the rate in the community, there is a need to seek for and obtain literacy grants for schools. Funding is needed in areas where children from low-income families should be introduced to books and pictures to help them become familiar with letters, numbers, and symbols as well.
1. Read.
As they cope with the day-to-day challenges of growing up, children who read aloud are prepared in learning much more in the future. Continuous reading improves vocabulary and strengthens their emotional bond with their parents and teachers. If they enhance their reading habits, they gain positive thoughts and feelings at the same time, and are more likely to enjoy and love it when they become adults.
2. Hear.
Typically, parents or care-givers read bedtime stories to youngsters. Later at preschool, they will hear their teacher reading books aloud and experience other activities such as building letter blocks, singing songs, solving puzzles, watching DVDs, and playing games and toys. Memorable stories are carried by children when they grow older, serving as a beacon during moments of hardships.
3. Listen.
Listening, for instance, allows students to build their comprehension skills by focusing on what is being taught and remembering it later. Reading a lot of books they can hold generates increased knowledge.
4. Speak.
Speaking, meanwhile, means engaging students in conversations with two or more people in order to develop their oral skills. Writing helps students make sense of what they have learned and connect ideas to their own lives.
5. Write.
Being able to write is vital to each child. This is one good way to express thoughts and communicate with others.
At school, children get to spend more time to listen, read, write, and speak. Apart from these, they should also be taught about other subjects such as math, science, health, and art.
Sometimes, psychosocial problems arise when children have a hard time expressing themselves and dealing with others. This may be a sign of delay in language, which may be caused by poor listening and reading skills.
Seek Grants for School
Securing literacy grants for schools by a group committed to child development and education will surely put an end to illiteracy and help the nation move forward into the future.
Now is the time to seek grants. Prepare a good written request. If you can't make one, seek help from expert grant writers.