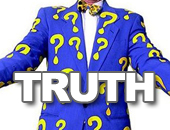 There are no government grants offered to persons who want to start or expand their business. The U.S. is clear with this issue. But many grant seekers continue to ask away about how some people were able to receive funding from the state.
The self-proclaimed grant expert Matthew Lesko and a few more fake websites stirred what is supposed to be a myth among the grant-making society. He is a famous infomercial figure believed to have researched thousands of free money ready to be given away.
He owns a number of web sites that serve as a mosaic of his books about free money. He continues to concoct fairy tales on how the likes of billionaires Steve Jobs and Donald Trump begged money from the state. Aside from that, he is a suave con man that captured the attention of New York Times for making grant legend after legend.
Matthew Lesko's sly profile earned him a spot in Bernard Goldberg's "100 People Who Are Screwing America" due to his ability to make people believe in his stories about grant rules.
The Truth behind Matthew Lesko's Lies
Matthew Lesko claims that the US plans to invest a stunning 3.22 million dollars in support of people looking for grant ranging from non-profit to profit funding.
According to SCORE, a free online resource for business persons, there is no such thing as federal grants awarded to a person. Federal money is allotted for charities, lending, and educational institutions but never for a single person.
Also, the state put up the U.S. Small Business Administration (SBA) to guide people with programs geared for starting or improving their business.
Is He a Valid Source for Government Grants?
Matthew Lesko is a heinous person preying on the minds of naive grant seekers. The info posted all over his web sites are false and add on the already crowded space occupied by thousands of grant scammers.
Despite how very well informed Lesko is, he is not a credible source of info for grant making. Some of the trusted sources out there are:
Grants.gov.
The Foundation Center.
SBA (for business owners looking to start or expand their shop).
Finally, Lesko's suits filled with question marks make him wary than honest. To know more about government grants, visit our blogs page and learn only from the grant experts.