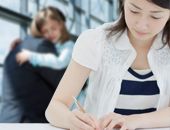 One of the most overwhelming tasks is to write. As a writer, there are days that words just don't fit in. It is critical to provide facts and capture the heart of your readers. However, it is a fulfilling experience to touch their emotions and open their eyes to the realities of life.
Writing Experience
Writing grant proposals was never easy. It requires smart ideas and appropriate use of words to write a compelling and inspiring funding application. Moreover, it should also be able to demonstrate and exhibit the importance of your proposed project to the community.
Different organizations, charitable institutions, and foundations receive hundreds of applications for a single award. Thus, it is important to seek help in writing grant proposals to ensure that your document will have an edge and would capture the hearts of potential funders. It should demonstrate its impact to change your life and the community.
However, writing one might not appear as easy as it may seem. A number of questions arise from the back of your head. Do you really need to hire a grant writer? Will basic knowledge of reading and writing be not enough?
Points to Ponder
Here are some key points that may help you to carefully decide.
Time and Effort
One of the best reasons why we need help in grant writing is to ensure that we would have higher chances of being considered for the giving cycle. With their innate talent and skills, these professionals can create a polished and well drafted funding application that will surely meet the funders' requirements. Having a writer can help us increase our chances of getting funded and make sure that all requirements and specifications of the donor are fully met.
Skills and Expertise
Writing is an art that requires skills and expertise. We could all prepare a proposal. However, to create a "good and competent" one may take time to get done. It is significant to find writers who will create a tailored document for each potential funder.
Success rate
The main purpose is to have funding sources for the organization's initiatives. Hence, with some help in grant writing, the chance of obtaining funding is higher. This is due to the fact that writers have qualified experience. Thus, they have a good understanding on how to satisfactorily meet the demands and requirements of donors.
What Makes a Proposal?
Submitting a proposal requires ample time to gather information and provide facts. It is important to identify and understand each part to further explain a proposed project.
Executive Summary
This part entails a brief summary of what the project is all about. It is concisely written and has to catch your reader's attention. It entails the purpose of your project, the type of assistance that you need, and an overview of the application. You may include mission statements, objectives, and vision of your organization. Make sure to emphasize the key points of your proposal.
Goals and Objectives
This signifies the importance of your project. How will it change your life? Your community? What makes it different among the existing projects? It should be coherent with your needs. Also, provide steps on how to achieve these goals and its outcome. It is suggested to use persuasive words to describe the importance of a project.
Needs Assessment
This is the most crucial part of your document. It has to provide details that will support your needs for funding such as statistics, research studies, and expert views. It also includes background research that explains why a proposed project has to be funded.
Budget
The reason behind the intimidating task is getting enough funding source to run your on-profit's programs. Thus, it is important to provide realistic and accurate budget plan for your document. Funders have to easily identify the projected cost of including personnel, equipment, and supplies.
Methodology and Program Design
It includes feasible and logical methods that define how the project will be accomplished.