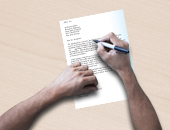 Most fund seekers thought that writing a grant proposal is all they need to do. Aside from proposals, however, they should also be writing a grant cover letter that will introduce their non-profit organization, the project they intend to pursue, the cost they need in order to implement the proposed project, and the purpose and the goals to address a problem.
Cover letter is an expected additional to your proposal upon submission. It gives a brief summary of the contents of your full proposal, which gives you the chance to show how compelling your project is and to encourage officers of funding sources in reading your proposal.
Basically, covers should be short and straight to the point. It should not explain lengthily. It should tell how the applicant fulfills the necessary requirements.
Moreover, it should be used for proposals to be sent to private foundations and other funding organizations. There will be no need for the letter if you are applying for federal or state funds.
Many writing experts advise that writing a grant cover letter should be done after the proposal is completed. This will help you, as the fund seeker, to take note of the key points to write in the cover.
The first paragraph should be introductory, stating the non-profit organization's full legal name and its mission.
In the second paragraph, meanwhile, you should put the total amount of your request so that your target funding sources will immediately know how much is needed. State the name of your program or project, if it has one.
In your third paragraph, take the opportunity to show that your project is really suitable to the funding qualifications and guidelines. Explain briefly what your project is about, what goals you intend to achieve, and when do you plan to carry out your project activities.
In your closing paragraph, thank the reader for paying attention to your application, pointing out how your project is in line with the funding source's mission. Lastly, it should be signed by the executive director or chief executive officer or board chairperson of the non-profit organization.
Helpful Tips in Writing a Grant Cover Letter
To make your copy more consistent, it is best to use the same date that your funding application will be sent to the source i. When putting the contact person's name and title, it should be followed by the address, including the city, state, and zip code.
Make sure to greet your contact person with "Dear" to somehow establish a personal connection with him or her. At the end of the text, you may use standard closing such as "Sincerely" or "With hope" to express your gratitude as well as your optimism.
Cover letters, experts say, should be limited to one page with at least three to four paragraphs. You do not want it to be a turn-off because it is too long.
Of course, writing a grant cover letter should end with the word "ENCLOSURE" (in all caps) at the bottom to indicate that a grant proposal is included in the packet that was sent to the target funding source.